David Brits

is an award-winning artist whose experimental métier is dedicated to investigations in public-scale sculpture. Equally energised by material exploration and archival investigation, Brits' practice spans installation, print-making, drawing, and film.
Major public sculpture commissions include the Desmond Tutu HIV Foundation, the Spier Arts Trust, and the

Iziko South African National Gallery

.

Recent exhibitions include Time is a Flat Circle, Brits' solo exhibition curated by Camila Maissune at

MovArt Gallery, Lisbon

, as well as inclusions in the Matereality group show at the

Iziko South African National Gallery

, curated by Andrea Lewis, and Fullhouse at blank projects, Cape Town.

Brits is the winner of the Rupert Foundation's inaugural

Social Impact Arts Prize

and a recipient of the Barbara Fairhead Award for Social Responsibility in Art. He is a founding member and curator of The Ramp, a multidisciplinary project space in Cape Town.
Upcoming:
September 2023: Residency at St Moritz Art Academy, St Moritz, Switzerland


Current:
Tears Become Rain: Social Impact Arts Prize film launch & immersive exhibition, Latitudes Online —

Click to view.



︎ Public Sculpture
Red Edge (Ouroboros 1.3.1)
2020
Carbon fibre, fibreglass, resin, epoxy, polyethelene foam, quartz crystals, pigment.
311 x 183 x 98cm

Public sculpture installed at the Iziko South African National Gallery.

This sculptural work is the culmination of three years of vigorous material exploration and prototyping using advanced composite materials, such as carbon fibre together with innovative technologies such as 3D design and 3D printing. Such materials are generally used in automotive, marine and aeronautical industries, rendering them non-traditional within the conventions of fine arts. Carbon fibre is a product of recent advances in material technology and when combined with a plastic resin, it becomes eleven times stronger than steel.

The iconic serpentine shapes within Brits' sculptures are rooted in his family background as his grandfather was a prominent South African snake catcher and reptile expert. Without a starting or finishing point, and appearing arterial in spite of their solidity, the forms seem to writhe and flow in constant movement. The effect is a sense of the wild and methodical working in harmony and unison - a kinetic energy feeding itself.

Snakes or serpents feature in mythologies from around the world, one of which Brits refers to in this work. 'Ouroboros' is a Greek word for the circular symbol of a snake eating its own tail. This represents infinity and according to Carl Jung is a, "symbol for the integration and assimilation of the opposite, i.e. of the shadow". Signifying recreation, the 'Ouroboros' further denotes the cyclical natures of life, as well as the introspection involved in reincarnation or the concept of eternal return.

︎Group Exhibition
The Hierarchy of Essential Disclosures (Ouroboros 2.2.1)
2019
Edition of 6 + 1 AP
42cm x 188cm x 100cm. Polyethlene Tube, Fibre Glass, Carbon Fibre, Resin, Quartz Crystals, Pigment, Fittings.
On show as part of Synaptic, at
THK Gallery
, Cape Town.
This work delivers a constantly shifting optical challenge; the patterns nested in the form are in endless flux as the viewer changes vantage points. Its size is imposing, but equally captivating is a perceptible weightlessness. Without a starting or finishing point, and appearing arterial in spite of their solidity, the form seems to writhe and flow in constant movement. The effect is a sense of the wild and methodical working in harmony and unison - a kinetic energy feeding itself.
︎Group Exhibition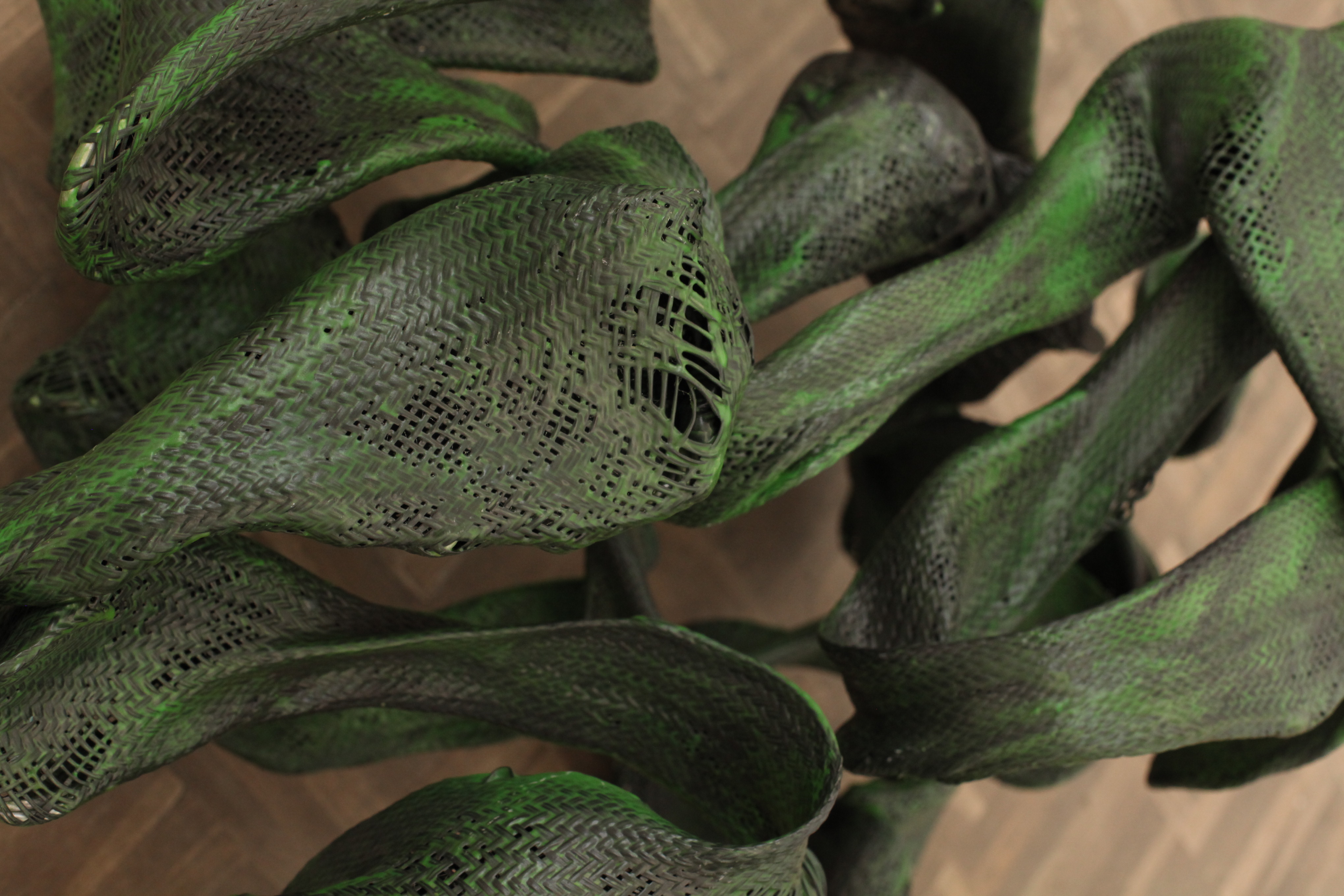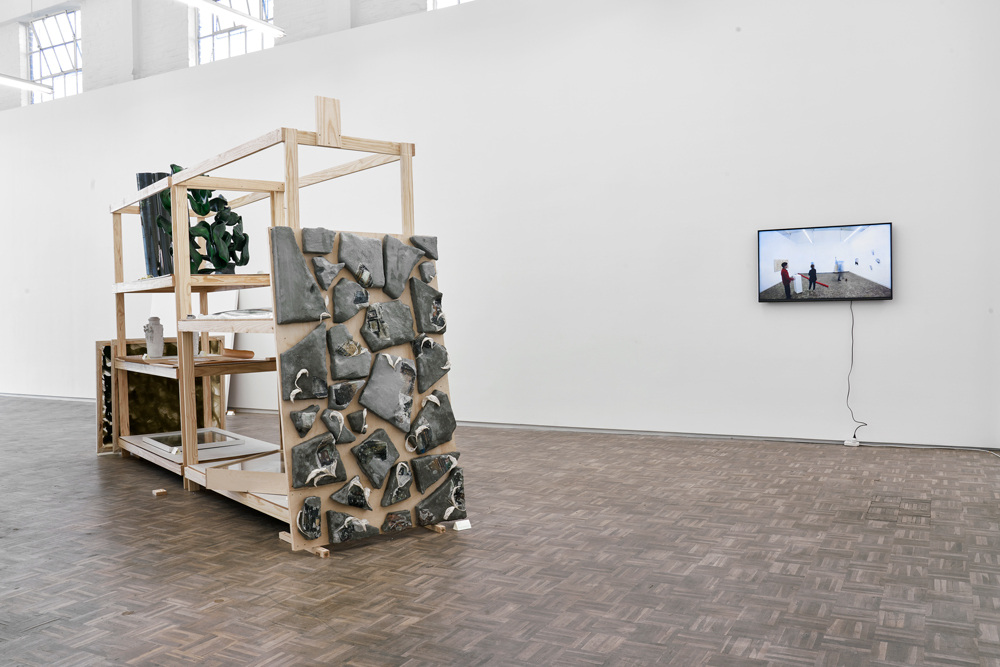 Sinusoidal Nebulous VIII
2020
Carbon Fibre, Aluminum, Resin.
65 x 56 x 55 cmt, Fittings.
On show as part of 'Fullhouse' at
blank projects
, Cape Town.
From the exhibition text:
"For this year's winter show, in which blank traditionally uses its platform to highlight the practices of emerging artists and curators, two local project spaces,
Fede
and
Under
, have been invited to occupy the gallery.
Fullhouse
consists of 1) a library of artworks sampled from practitioners that Fede and Under have worked with over the last year, 2) an empty room in which artworks will be continuously reconfigured and curatorial enquiries will occur.
The following artists are included in the library:
Bella Knemeyer | Ben Orkin | Callan Grecia | Christian Nerf | Ciara Dunsby | David Brits | Dom Pretorius | Douglas Gimberg | Ed Young | Emily Clark | Gaelen Pinnock | Githan Coopoo | Inga Somdyala |Jared GInsburg | Jean-Marie Malan | Jody Brand | Kamyar Bineshtarigh | Lungiswa Gqunta | Luyanda Zindela | Mankebe Seakgoe | Manyaku Mashilo | Marsi van de Heuvel | Matthew Michael | Mercy Thokozane Minah | Micha Serraf | Nabeeha Mohamed | Nazeer Jappie | Nolan Oswald Dennis | Phillip Newman | Reef Sithole | Sepideh Mehraban | Sitaara Stodel | Thando Phenyane | Tom Cullberg | Tony Gum | Tyra Naidoo | Vusumzi Nkomo | Water Dixon | Xhanti Zwelendaba | Yonela Makoba | Zander Blom"
︎Solo Exhibition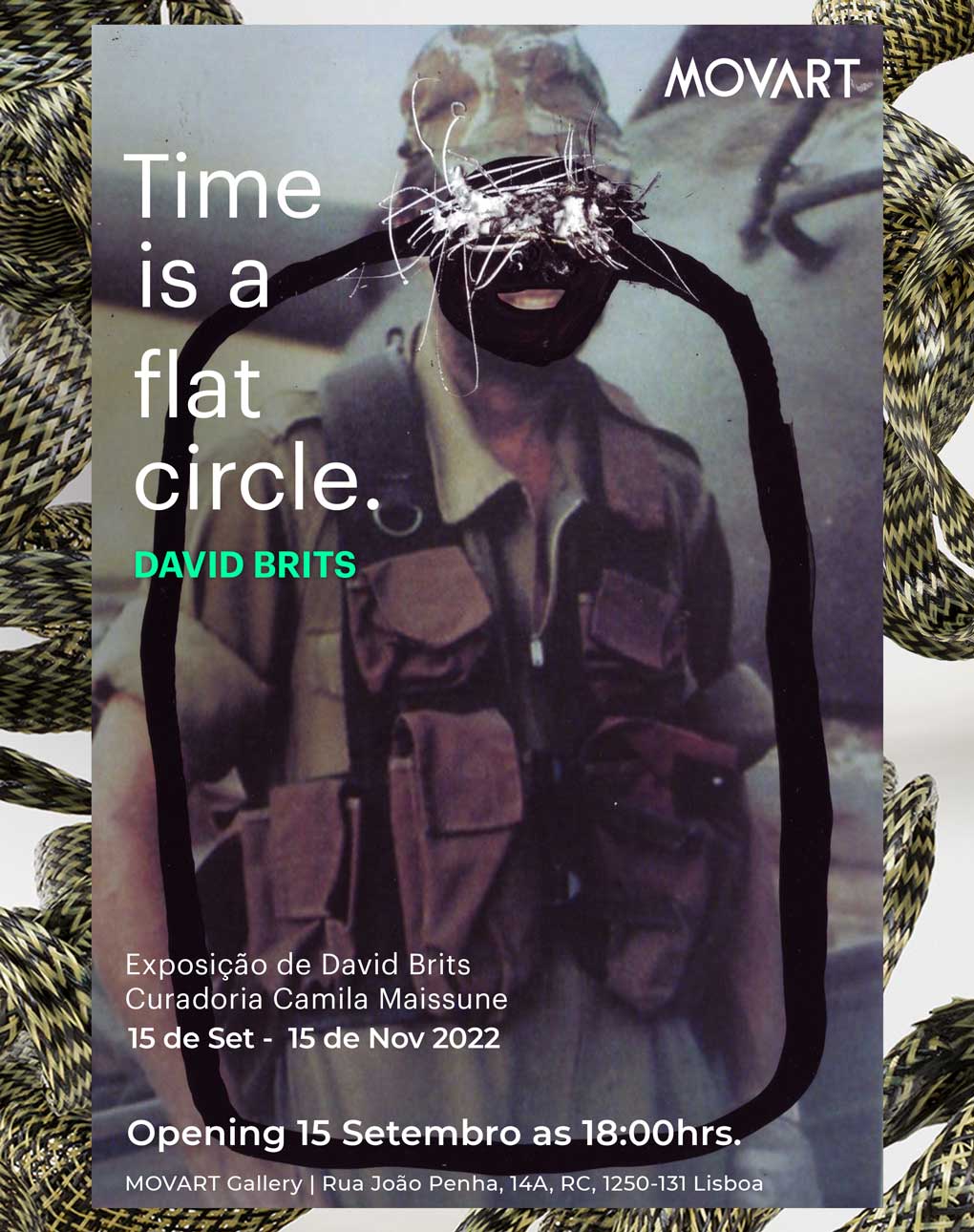 Time is a Flat Circle

15 September — 13 November 2022
Movart
, R. João Penha 14A, 1250-025 Lisboa, Portugal.
Curated by
Camila Maissune.
Time is a Flat Circle
by South African artist David Brits (b. 1987) comprises a set of photographic works completed between 2010–2012 as well as a series of new carbon fibre sculptures. The exhibition commemorates the 35th anniversary of the Battle of Cuito Cuanavale, a large-scale mechanised tank battle that took place in southern Angola between Angolan, Cuban and South African forces during the years 1987–1988.
Based in an archive of pictures posted on social media groups by South African ex-conscripts, many of whom fought in South Africa's so-called "Border War" in Namibia and southern Angola from the 1960ies to the 1980ies, David Brits uses mark-making, erasure and scratching, thus embodying the complexities of working through his own masculinity and inherited history in post-Apartheid South Africa.
Brits' sculptural works take as their principal archetype the "Ouroboros", a Greek-derived word describing the symbol of a snake devouring its own tail. The artist brings forth an image whose logic refutes itself, and which somehow suspends time.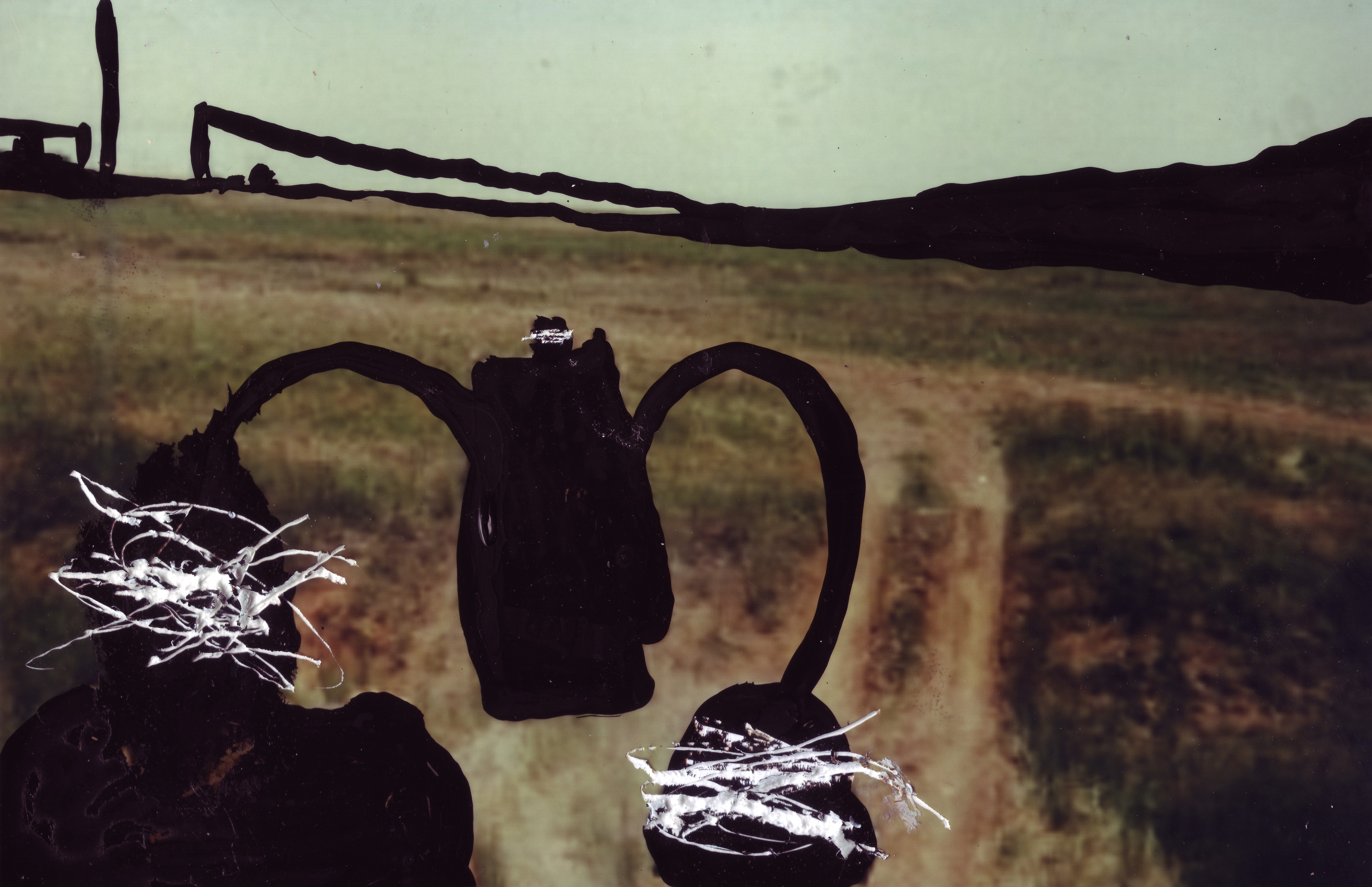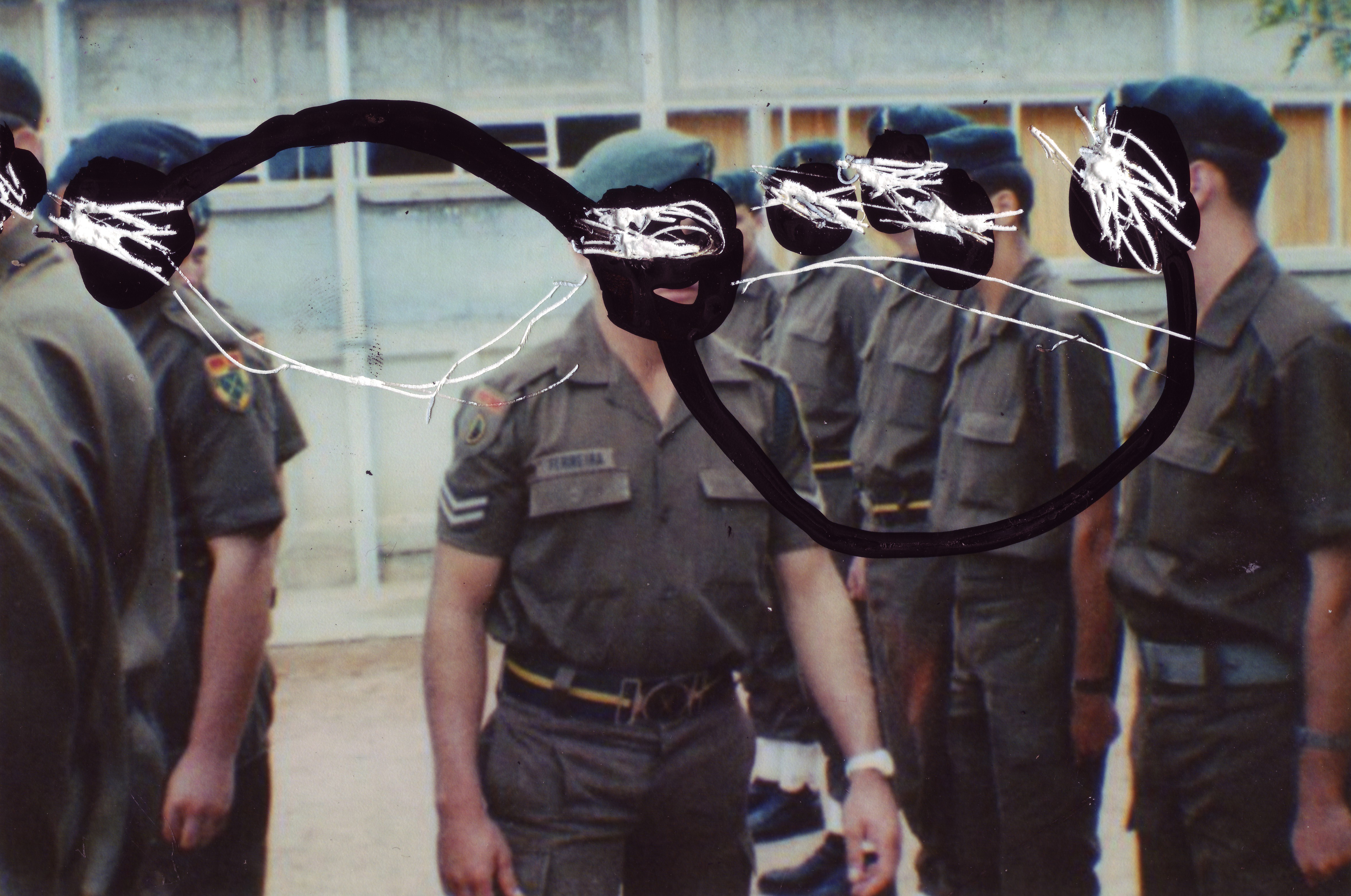 "
In Time is a Flat Circle, one witnesses a political-poetic collage in different layers of the archive. Between image, video and sculpture, we witness a permanent camouflage in which history, man and animal are demultiplied in a narrative and a mapping of memories.

Brits symbolically adopts the "oroboros", a Greek word that describes the symbol of the snake consuming its own tail and connected it to an archive of images published on social media of groups of former South African recruits. Many of these ex-conscripts fought in what is known as the "Border War" in Namibia and Southern Angola from the 1960ies to the late 1980ies. The oroboros presents itself once again in the black, circular strokes with which David erases the images, erasing the faces, in a sense vandalising them, thus incorporating the complexities of working with the inherited history of a post-apartheid South Africa. As Anfonso Dias Ramos states, Brits vandalises 'the integrity of the original images, which were largely limited to scenes of male bonding and uneventful daily rituals, codifying the dominant way of talking about the war in terms of camaraderie and masculinity, ignoring the extreme violence surrounding it.
'"
— Excerpt from curator Camila's Maissune's exhibition text for Time is a Flat Circle.