Red Edge (Ouroboros 1.3.1)
2020
Carbon fibre, fibreglass, resin, epoxy, polyethelene foam, quartz crystals, pigment.
311 x 183 x 98cm
Public sculpture installed at the
Iziko South African National Gallery
.
This sculptural work is the culmination of three years of vigorous material exploration and prototyping using advanced composite materials, such as carbon fibre together with innovative technologies such as 3D design and 3D printing. Such materials are generally used in automotive, marine and aeronautical industries, rendering them non-traditional within the conventions of fine arts.
See more...
︎ Public Sculpture
The Hierarchy of Essential Disclosures (Ouroboros 2.2.1)
2019
Edition of 6 + 1 AP
42cm x 188cm x 100cm. Polyethlene Tube, Fibre Glass, Carbon Fibre, Resin, Quartz Crystals, Pigment, Fittings.
On show as part of Synaptic, at
THK Gallery
, Cape Town.
This work delivers a constantly shifting optical challenge; the patterns nested in the form are in endless flux as the viewer changes vantage points. Its size is imposing, but equally captivating is a perceptible weightlessness. Without a starting or finishing point, and appearing arterial in spite of their solidity, the form seems to writhe and flow in constant movement. The effect is a sense of the wild and methodical working in harmony and unison - a kinetic energy feeding itself.
︎ Group Exhibition
Time is a Flat Circle
15 September — 13 November 2022
Movart
, R. João Penha 14A, 1250-025 Lisboa, Portugal.
Curated by
Camila Maissune.
Time is a Flat Circle
by South African artist David Brits (b. 1987) comprises a set of photographic works completed between 2010–2012 as well as a series of new carbon fibre sculptures. The exhibition commemorates the 35th anniversary of the Battle of Cuito Cuanavale, a large-scale mechanised tank battle that took place in southern Angola between Angolan, Cuban and South African forces during the years 1987–1988.
Based in an archive of pictures posted on social media groups by South African ex-conscripts, many of whom fought in South Africa's so-called "Border War" in Namibia and southern Angola from the 1960ies to the 1980ies, David Brits uses mark-making, erasure and scratching, thus embodying the complexities of working through his own masculinity and inherited history in post-Apartheid South Africa.
Brits' sculptural works take as their principal archetype the "Ouroboros", a Greek-derived word describing the symbol of a snake devouring its own tail. The artist brings forth an image whose logic refutes itself, and which somehow suspends time.
︎Solo Exhibition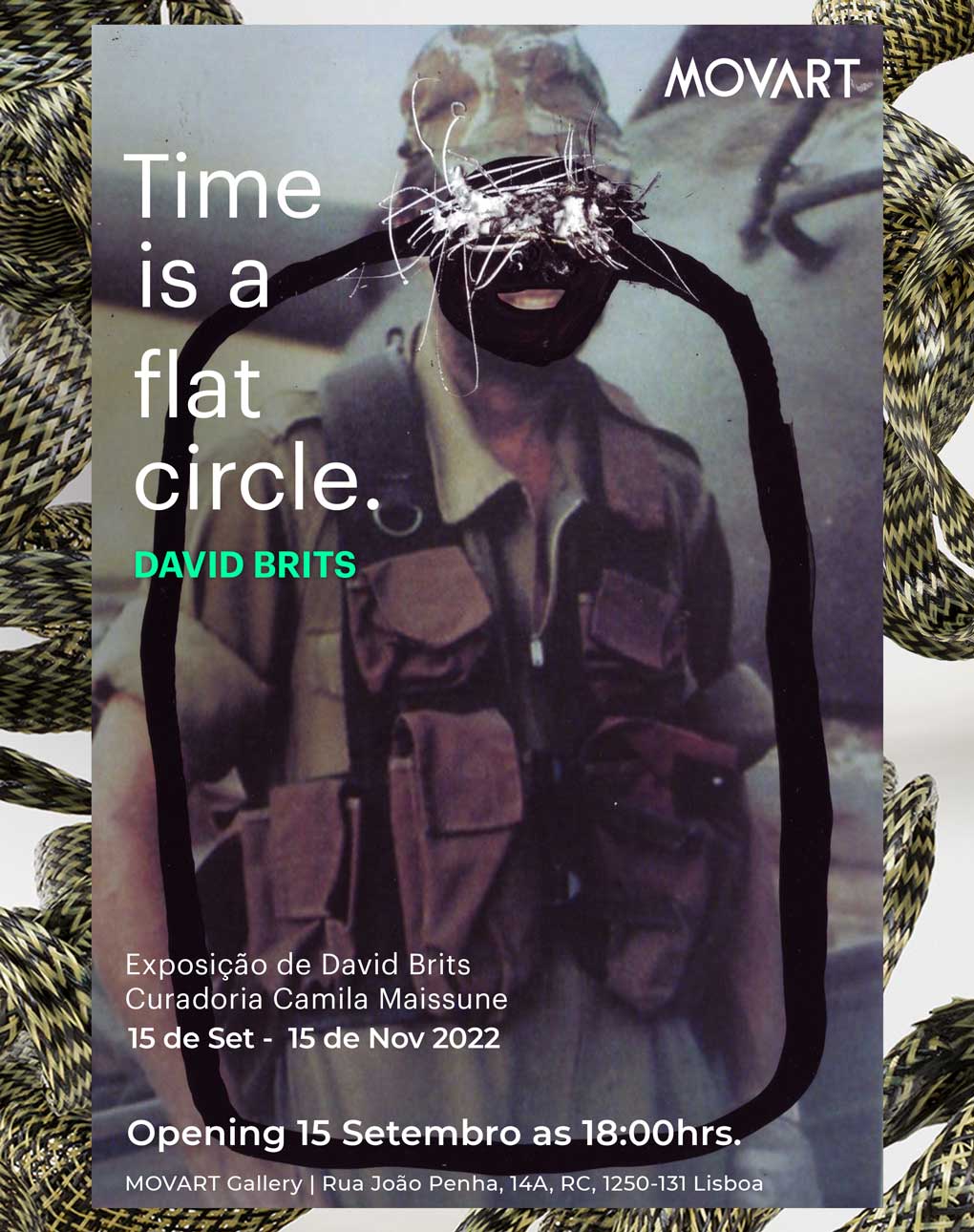 "In Time is a Flat Circle, one witnesses a political-poetic collage in different layers of the archive. Between image, video and sculpture, we witness a permanent camouflage in which history, man and animal are demultiplied in a narrative and a mapping of memories.
Brits symbolically adopts the "oroboros", a Greek word that describes the symbol of the snake consuming its own tail and connected it to an archive of images published on social media of groups of former South African recruits. Many of these ex-conscripts fought in what is known as the "Border War" in Namibia and Southern Angola from the 1960ies to the late 1980ies. The oroboros presents itself once again in the black, circular strokes with which David erases the images, erasing the faces, in a sense vandalising them, thus incorporating the complexities of working with the inherited history of a post-apartheid South Africa. As Anfonso Dias Ramos states, Brits vandalises 'the integrity of the original images, which were largely limited to scenes of male bonding and uneventful daily rituals, codifying the dominant way of talking about the war in terms of camaraderie and masculinity, ignoring the extreme violence surrounding it.'"
— Excerpt from curator Camila's Maissune's exhibition text for Time is a Flat Circle.
Image 1:
Installation view,
Time is a Flat Circle
Images 2-13:
The South African Defence Force Facebook series (2010-12)
India ink on Incised Facebook Photograph. Printed on Baryta Photorag, 30 x 90 cm, 1/3+1AP, 2022.
Time is a Flat Circle
15 September — 13 November 2022
Movart
, R. João Penha 14A, 1250-025 Lisboa, Portugal.
Curated by
Camila Maissune.
︎Solo Exhibition


Models for Public Sculpture
2016-2021
Dimentions variable.

︎ Macquettes